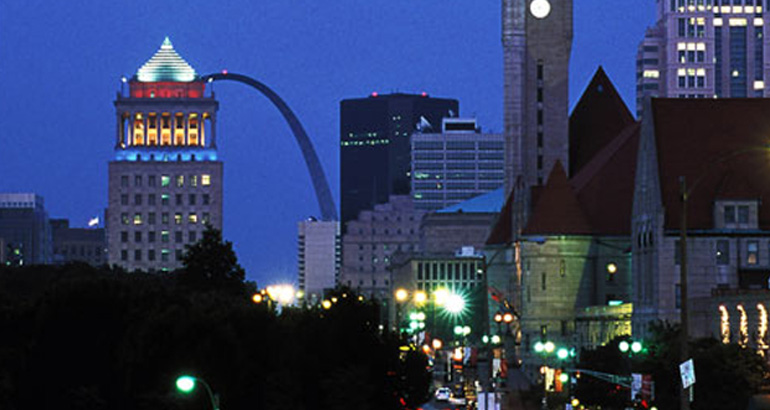 Our Story
We are Destination St. Louis, a full-service accredited destination management and convention services company for event planning in St. Louis. Since 1990 our team has been serving visitors to the Gateway City.  When you work with Destination St. Louis, you select a dedicated team of professionals willing to give you the best in personalized service.
Just like the story our guides share about St. Louis' rich history dating to 1764, Destination St. Louis has a story...here's ours…
After six years in Washington, DC, operating a guide service business, founder Julie Greenspoon sold her company in 1989 and moved to town to marry a local St. Louisan. She started Destination St. Louis as a two-person office operating out of a spare bedroom. The hiring of employee number 3 forced a move to a "real" office in 1996. Continued growth required more space. In 2001, we moved into our own building; in 2006 we bought the neighbor's building and constructed a bridge connectng the sales and operations departments; creating the "World Headquarters" you see today.
Angie Weigel, President, joined Julie in 1999 and celebrates more than 30 years in the industry. If there ever was a child prodigy in our industry, Angie fits the bill. Born with the passion required she worked as a teenager on the sightseeing riverboats. Over the next 18 years, Julie and Angie expanded and fine-tuned the business. Never saying no to a new challenge, the business and staff grew…and grew…and grew from two to a twelve person full-time staff with more than 125 on-site staff.
Originally providing what Julie knew - tours and transportation, Destination St. Louis has evolved into providing full service event planning in St. Louis.
We pride ourselves on providing our clients with comprehensive one-on-one service from inception to completion. Whether it's an event for 500 at the Gateway Arch, a city-wide shuttle system or a tour program, our flexible, knowledgeable staff is always responsive to your changing needs. Experts in serving the St. Louis Metro area, we can ensure that your group's visit will be one they remember for years to come. For event planning in St. Louis, we are the only call you need to make.
Destination St. Louis, Inc. is certified by the State of Missouri as a Woman-Owned Business Enterprise (WBE). 
Mission
Passionately dedicated to providing excellence beyond expectations. Building relationships and celebrating success.
Nostalgic? For more fun company history and great photos of when we were all young, click here to view our 15th Anniversary and 25th Anniversary photo collections.