Transportation
Whether you need to move 20, 200, 2,000 or 20,000 guests, Destination St. Louis has the expertise necessary to make your transportation services run smoothly. Our company can provide a wide range of transportation services ranging from airport meet & greet and departure services to multi-route shuttle systems and everything in between. We choose to work only with high-quality vendors who have a proven track record of safety and customer service. Destination St. Louis transportation programs have won multiple industry awards.
Airport Meet and Greet & Departure Services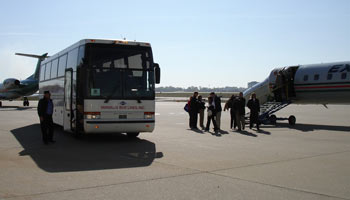 As the old adage says, you don't have a second chance to make a first impression. Destination St. Louis is a leader in providing meet and greet services at Lambert-St. Louis International Airport and other area airfields. No matter the size of your group, we will make their transfer to their final destination smooth and comfortable. We also believe it is important to provide a proper farewell. For departures, our staff will coordinate return transportation from the hotel or other designated location to the departure airport.
Shuttle Services
Destination St. Louis has experience in moving groups of all sizes, from one route programs to city-wide conventions of 25,000 guests utilizing 30 hotels and 12 routes. Our shuttle experts can design a comprehensive transportation system that fits both the service level and cost expectations of your group.
Carbon Neutral Shuttles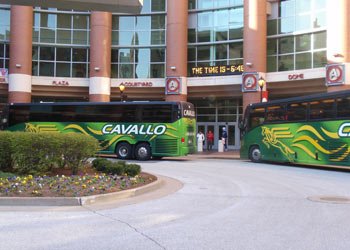 Destination St. Louis is proud to provide carbon neutral shuttles for our clients. Fuel consumption will be calculated for each shuttle and an appropriate amount of carbon off-sets -- re-forestation, renewable energy credits or energy efficiency -- may be selected by the client. We are proud to partner with Carbonfund.org to administer the off-sets.
Additionally, our motorcoach affiliates have many "green" policies in place. They currently recycle all used oil, batteries, tires, antifreeze and transmission fluid. Our transportation companies also use low-volume water sprayers and environmentally-friendly detergents to clean their vehicles.